 
RealFlight 8 - med Interlink-X Controller
Försäljningsvillkor
Betalning, leverans, garanti, ångerrätt, reklamation m m
Frakt
Enhetsfrakt från 69 kr
Integritetspolicy
Hur vi hanterar dina uppgifter
Full RF8 simulator with Interlink-X Controller
Get your hands on the ultimate RC experience!



Software Features
Unparalleled physics make RealFlight the #1 RC flight simulator on the market
Simple, intuitive interface—zero learning curve, zero hassle
Game-like challenges make flight training fun and fully interactive with at least ten levels of complexity
Multiplayer combat—challenge the best pilots in the world
Fly in detailed fields—day or night—and make them your own with FlexiField
More than 140 aircraft.
More than 40 flying sites and FlexiField Site Editor

Interlink-X Features
Exclusive Reset/Rewind button for replaying your victories orreversing your crashes
Easy control of most simulator functions right from the controller
10-channel capability for effortless control of… everything
Built-in sliders help drone pilots zero their cameras in for the best shots

Classic convenience meets enhanced capabilities in RealFlight 8! It brings back all the features and functionality of RF7.5 with several key upgrades. The same game-changing, supremely realistic physics which have drawn pilots to RealFlight since the first edition are back and further improved… and there's so much more.

First up on the list of new capabilities—VR compatibility. Plug in a popular VR set available on the market and you're instantly at the field or behind the sticks. For full immersion, there's nothing else like it out there.

Plus, accessing the world of RealFlight is easier than ever with a simple, intuitive interface which virtually guarantees you'll be up and flying in moments. There's zero learning curve, zero hassle, just flying fun. New for RealFlight 8, you can fly with the custom-designed InterLink controller or hook up a game console controller you might already have around the house.

Next up are the flying sites and aircraft—every flying site and aircraft from RF7.5 is back. Plus there are over a dozen new aircraft and a customized FPV flying site. Plus, you can customize everything to your satisfaction with aircraft and flying site software that has also been upgraded to accept even more detailed HD models.

Far from last, and certainly not least, the game-like challenges which have helped sharpen thousands of pilots' skills are back and expanded so you get more tiers of balloon-popping, spot landing bang for your buck.

Trust in the RC flight simulator that has put more pilots in the air safely than any other, pick up your copy of RealFlight today!

Available with the InterLink-X controller, or software only.


System Requirements

Minimum Recommended System:
Some graphical features may be disabled. Aerodynamic calculations will remain high quality.
 
Windows Vista™ or Windows 7 or Windows 8 or Windows 10*
*Administrator access required.
Intel® Pentium® 1.0GHz or equivalent
512 MB RAM
10 GB Hard Drive Space
DVD Drive
3D Accelerated Video with:
32 MB Dedicated Video Memory
Full DirectX 9 compliant (Shader Model 2.0 or better)
InterLink-X, RealFlight compatible controller, or other Gamepad/Joystick

Optimal System:
For best graphical performance
Dual Core 2.4GHz CPU
2 GB RAM
3D Accelerated Video with: 512 MB dedicated video memory

Multiplayer Requirements:
Broadband connection
Computer microphone for voice chat

InterLink®-X Controller:
USB Port
Compatible FM or FM-selectable transmitter (if using the interface mode)
Note: The connectors on the InterLink-X cord and included adapters make the InterLink-X compatible with the trainer jacks on most Futaba® and all JR®, Spektrum® and Tower Hobbies® systems.

VR Requirements:
Compatible with some VR sets (available separately) check manufacturers requirements for VR system use.

Activation Required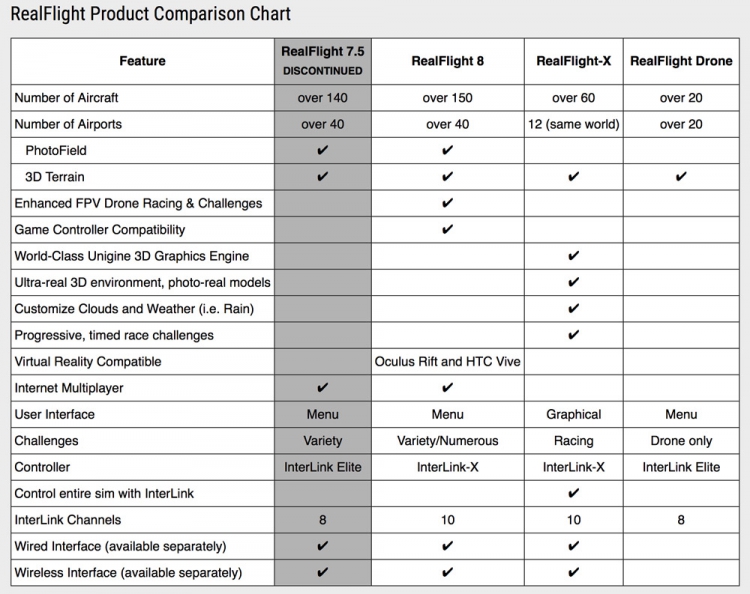 Windows is a registered trademark of Microsoft Corporation in the United States and other countries.
5 andra produkter i samma kategori: